Image Carousel with 2 slides
A carousel is a rotating set of images. Use the previous and next buttons to change the displayed slide
Slide 1: Women engineers visiting the Johnson & Johnson Museum in New Jersey

Slide 2: Johnson & Johnson Scholars presenting their research at the Undergraduate Research Symposium.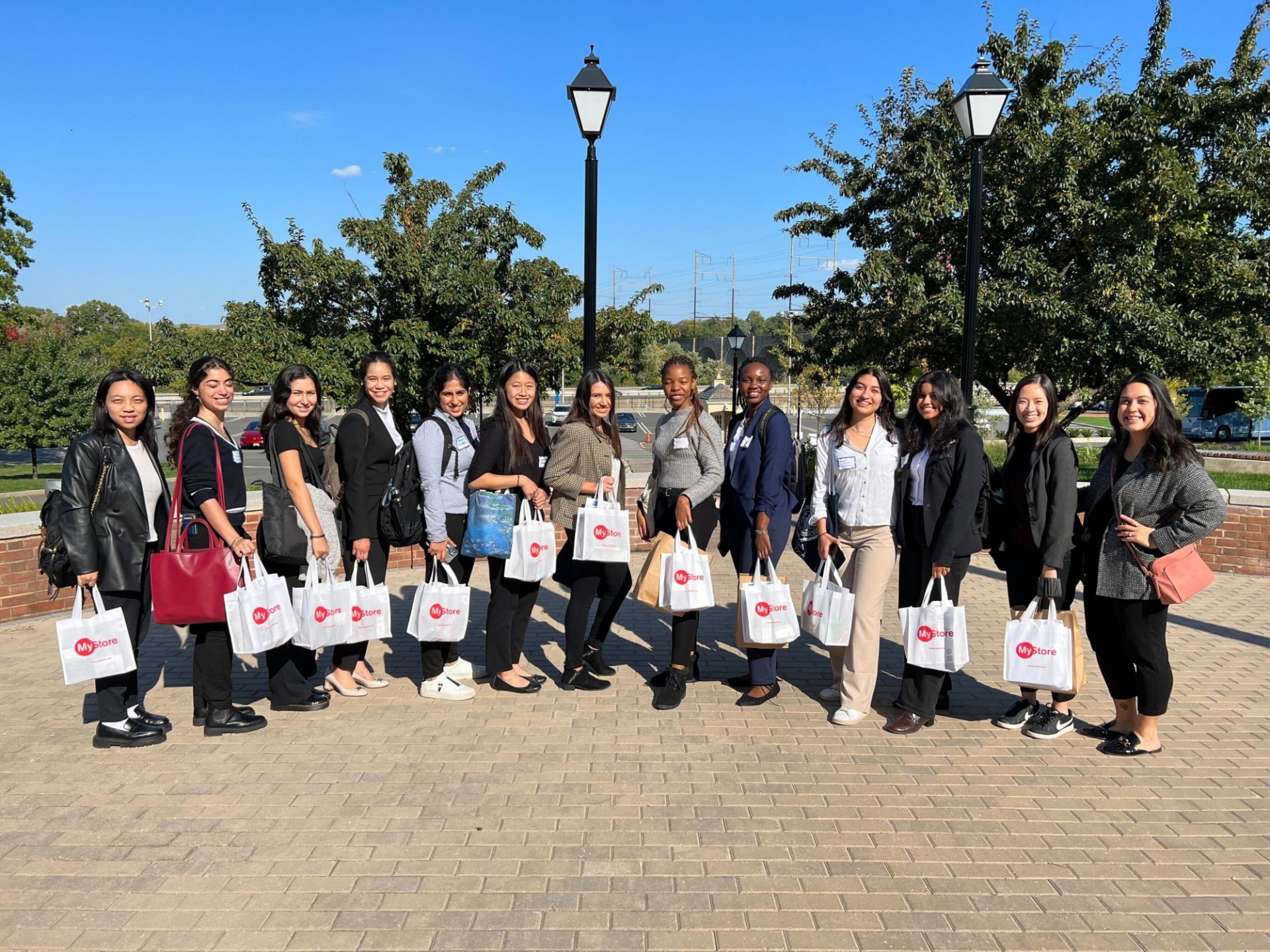 Previous
Next
The Fu Foundation School of Engineering and Applied Science has been partnering with Johnson & Johnson's WiSTEM2D program since 2017. 
Johnson & Johnson and SEAS Undergraduate Student Affairs provide on-campus programming and site visits open to the Columbia community to continue to "empower women and girls in the six vital STEM2D fields so they have limitless opportunities to change the trajectory of health for humanity".
For more information about the WiSTEM2D program, please email [email protected]
First name

Michael Anne

Last name

Bolene

Class

2020

Dept

BMEN

Faculty

Nandan Nerukar
First name

Chen

Last name

Chen

Class

2022

Dept

COMS

Faculty

Allie Obermayer
First name

Sabrina

Last name

Curtis

Class

2020

Dept

MECE

Faculty

Adrian Brugger
First name

Duron Garcia

Last name

Daniela

Class

2020

Dept

MECE

Faculty

Adrian Brugger
First name

Mikhaela

Last name

Diaz

Class

2022

Dept

APAM

Faculty

Barclay Morrison
First name

Elilsa

Last name

Fang

Class

2020

Dept

BMEN

Faculty

Helen Lu
First name

Bryanna

Last name

Geiger

Class

2022

Dept

COMS

Faculty

Katie Reuther
First name

Michelle

Last name

Kim

Class

2022

Dept

BMEN

Faculty

Lance Kam
First name

Sapna

Last name

Ramesh

Class

2021

Dept

CHEN

Faculty

Lauren Marbella
First name

Mallaika

Last name

Singh Tomar

Class

2022

Dept

COMS

Faculty

Barclay Morrison
First name

Anya

Last name

Volter

Class

2020

Dept

BMEN

Faculty

Sam Sia
First name

Dongyi

Last name

Wang

Class

2020

Dept

EEE

Faculty

Alissa Park
First name

Elizabeth

Last name

Whittier

Class

2021

Dept

ELEN

Faculty

Ken Shepard
First name

Natalie

Last name

Williams

Class

2021

Dept

CHEN

Faculty

Ngai Yip
First name

Dingwen

Last name

Xie

Class

2020

Dept

IEOR

Faculty

Sharon Di
First name

Helen

Last name

Xu

Class

2020

Dept

BMEN

Faculty

Helen Lu
First name

Angela

Last name

Ye

Class

2022

Dept

CHEN

Faculty

Alan West
First name

Saiti

Last name

Halder

Class

2019

Dept

BMEN

Faculty

Clark Hung
First name

Janice

Last name

Chung

Class

2019

Dept

BMEN

Faculty

Sam Sia
First name

Joyce

Last name

Zhou

Class

2019

Dept

BMEN

Faculty

Kam Leong
First name

Nicole

Last name

Boyd

Class

2019

Dept

BMEN

Faculty

Barclay Morrison
First name

Jed-Joan

Last name

Edziah

Class

2019

Dept

CHEN

Faculty

Alan West
First name

Maya

Last name

Bhat

Class

2019

Dept

CHEN

Faculty

Dan Esposito
First name

Julie

Last name

Raiff

Class

2021

Dept

CHEN

Faculty

Dan Esposito
First name

Paulina

Last name

Babiak

Class

2019

Dept

CHEN

Faculty

Allie Obermaeir
First name

Dongyi

Last name

Wang

Class

2020

Dept

EAEE

Faculty

Alissa Park
First name

Avery Anna

Last name

Park

Class

2020

Dept

EAEE

Faculty

Alissa Park
First name

Jess

Last name

Qu

Class

2019

Dept

BMEN

Faculty

Gordana Vunjak
First name

Alyssa

Last name

Hwang

Class

2020

Dept

COMS

Faculty

Kathy McKeown
First name

Rachel

Last name

Mintz

Class

2019

Dept

BMEN

Faculty

Kam Leong
First name

Hannah

Last name

Gu

Class

2020

Dept

COMS

Faculty

Sharon Di
First name

Dahlia

Last name

Ghoshal

Class

2021

Dept

MECE

Faculty

Karen Kasza
First name

Malia

Last name

Libby

Class

2020

Dept

CHEN

Faculty

Bob Farrauto
First name

Mojdeh

Last name

Yadollahikhales

Class

2021

Dept

BMEN

Faculty

Katie Reuther
First name

Yueli

Last name

Liang

Class

2019

Dept

EEE

Faculty

Bob Farrauto
First name

Sofia

Last name

Barbosa

Class

2020

Dept

BMEN

Faculty

Clark Hung
First name

Katherine

Last name

Strong

Class

2019

Dept

BMEN

Faculty

Barclay Morrison
First name

Jocelyn

Last name

Wang

Class

2019

Dept

CHEN

Faculty

Ngai Yin Yip
First name

Ria

Last name

Garg

Class

2020

Dept

APPH

Faculty

Kyle Mandli
First name

Lily

Last name

Zhao

Class

2019

Dept

MECE

Faculty

Kristin Myers
First name

Joanna

Last name

Zhang

Class

2019

Dept

BMEN

Faculty

Tal Danino
First name

Xinyi Jesse

Last name

Han

Class

2020

Dept

COMS

Faculty

Kyle Mandli
First name

Kelly

Last name

Conway

Class

2018

Dept

EAEE

Faculty

Ngai Yip
First name

Veronica

Last name

Marquez

Class

2018

Dept

MECE

Faculty

Arvind Narayanaswamy
First name

Mia

Last name

Saade

Class

2019

Dept

BMEN

Faculty

Kristin Myers
First name

Diana

Last name

Lu

Class

2019

Dept

BMEN

Faculty

Ed Guo
First name

Rhiana

Last name

Rivas

Class

2018

Dept

ELEN

Faculty

Christine Hendon
First name

Meredith

Last name

Cox

Class

2020

Dept

COMS

Faculty

Dana Pe'er
First name

Jessie Ruixuan

Last name

Yan

Class

2020

Dept

APMA

Faculty

Michael Mauel
First name

Jamie

Last name

Mullins

Class

2020

Dept

ELEN

Faculty

John Kymissis
First name

Adjua

Last name

Jones

Class

2018

Dept

COMP

Faculty

Dan Rubenstein
First name

Mariel

Last name

Ogurek

Class

2020

Dept

MECE

Faculty

Karen Kasza
First name

Taya

Last name

Voronko

Class

2020

Dept

MECE

Faculty

Karen Kasza
First name

Sabrina

Last name

Maliqi

Class

2018

Dept

BMEN

Faculty

Elizabeth Hillman